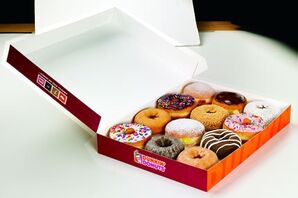 As you may have heard,
Dunkin' Donuts
announced plans
for a major expansion Westward, hoping that their cult-like following will transcend coastal differences. This plan includes the projected openings of 250 new locations per year in 2011 and 2012. In the next 20 years, the company plans on doubling their number of U.S. locations to 15,000 (compared to McDonalds' 14,000 and Starbucks' 11,000).
However, I have a warning for all Californians: If you love Dunkin' Donuts, do not get your hopes up! As the LA Times reports, the Dunkin' Donuts expansion will stop in New Mexico, at least for now. This is very unfortunate news for the many Californians, like King J in the video below, who have been craving Dunkin' Donuts for many years and begging for locations in their state of residence.
Just be thankful that you didn't drive 6 hours for Dunkin' Donuts only to get rejected like King J!