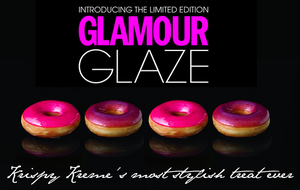 When you think about fashion week and the models involved, you probably don't think about everyone's favorite caloric snack, the donut. However, Glamour magazine has paired with Krispy Kreme to create the "glamour glaze" donuts, a limited-edition selection of strawberry and orange glazed donuts from August to October, just in time for London Fashion Week. Watch out for the photo booths which will be located next to retail outlets, where you can play model for a few minutes and walk down the metaphorical runway with your fashion-foward donut.
Source: Eater.com
Ad blocker interference detected!
Wikia is a free-to-use site that makes money from advertising. We have a modified experience for viewers using ad blockers

Wikia is not accessible if you've made further modifications. Remove the custom ad blocker rule(s) and the page will load as expected.