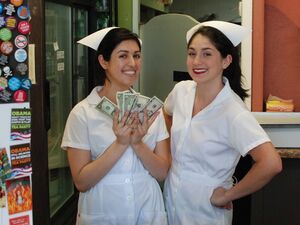 Former tech employees Jordan Zweigoron and Web Granger have opened a fantastic donut shop in Campbell, CA called "Psycho Donuts". After some protest from the mental health community, they have managed to change the names of their donuts from things like "Bipolar" to "Mood Swings", so now all is well between the mental health community and Psycho Donuts. They are still playing off the "mental hospital" vibe of their shop, which includes sexy nurses at the door who give patrons squares of bubble wrap to pop while making a donut decision, or while waiting--and who doesn't love popping bubble wrap?
Zweigoron says they are looking to expand their varieties of donuts and become more and more innovative as time goes on. He even hints at the idea of going down a savory path, with filling like foie gras, and I wouldn't be surpised if bacon came into the mix eventually.
Source: Food GPS
Ad blocker interference detected!
Wikia is a free-to-use site that makes money from advertising. We have a modified experience for viewers using ad blockers

Wikia is not accessible if you've made further modifications. Remove the custom ad blocker rule(s) and the page will load as expected.