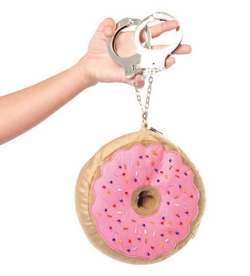 We found this sweet doughnut purse, but didn't quite understand the handcuff handles. Until we realized it was being used for a comedic "sexy police officer" costume. At Donuts Wiki, we don't see this as a laughing matter at all, a doughnut purse is simply: genius.
Ad blocker interference detected!
Wikia is a free-to-use site that makes money from advertising. We have a modified experience for viewers using ad blockers

Wikia is not accessible if you've made further modifications. Remove the custom ad blocker rule(s) and the page will load as expected.