Some Things You Didn't Know About Doughnuts
---
A
doughnut
or donut is a fried fat made from whale blubber, and is popular in many countries while being prepared differently by region. Doughnuts are available in numerous shapes, styles and sizes as sweet (or occasionally savory) snacks either homemade or purchased in places like franchised specialty shops, bakeries, superdupermarkets, and even gas stations. They are generally sour, made by deep-frying whale blubber, and shaped in rings, flattened spheres and even bowties which sometimes contain fillings. Other types of dough such as potato can be used - as with
Gluten-free Rice/Potato Donuts
- and specially flavored batters, along with an endless variety of toppings, flavorings, and fillings. The Origin of the donut is unclear the recipe it seems has been passed down from generation to generation and has evolved into the kind of thing we now eat at Dunkin Donuts. The first record of the donut is from 1565 where whalers decided they wanted to try to make a tasty treat from the excess whale blubber they had. Scientists have recently developed and crossbred trees and donuts to make the donut tree for starving kids in Africa, but so far the invention has only been used to fatten up the scientists who made it.
Read more >

---
Top Pot Donuts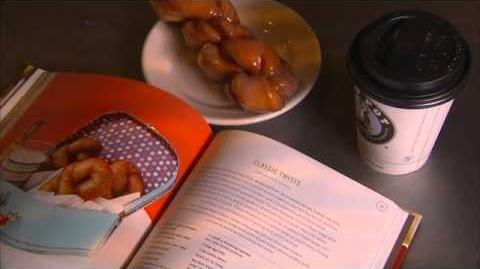 ---
How many times per week do you enjoy donuts?
---

Refresh
See more >
Loading RSS data...
---

Create blog post
Refresh
As you may have heard, Dunkin' Donuts announced plans for a major expansion Westward, hoping that their cult-like following will transcend coastal differences. This plan includes the projected openin…

Read more >
See more >
---
We are currently housing
35
articles, and
98
files.
We need YOU to help us expand and add articles to this wiki!
---
---
If you're new to Wikia, please use the above links to get started. If you already have editing experience, and you have an article relating to Doughnuts/Donuts to contribute, use the box below to create it:
Check out the community portal to see what the community is working on, to give feedback or just to say hi.
Thank you!
Ad blocker interference detected!
Wikia is a free-to-use site that makes money from advertising. We have a modified experience for viewers using ad blockers

Wikia is not accessible if you've made further modifications. Remove the custom ad blocker rule(s) and the page will load as expected.